Upward is a Managed Service Provider and Cybersecurity consultancy dedicated to helping companies thrive on technology.
As an outsourced IT department or as Co-Managed partners to your in-house staff, our amazing team and unique tools and systems scale your digital problems small and people opportunities big.
Tell us where you want to go, and we will build and execute on a roadmap to get you there. We bring a tenured, passionate and engaged team using a unique and powerful platform to deliver IT results you have never experienced before.
14-year-old Managed Services leader, headquartered in Portland, Oregon. We support over 2000 technology users across six time zones, 24/7/365.
Our Microsoft Gold Certified team is focused on helping our clients get more out of their technology investment.
We use a custom-built technology platform to enable our clients to collaborate more deeply and transparently with Upward.
This drives better technology outcomes and healthier partnerships.
First Certified B-Corp in the Pacific Northwest.
Winner of 100 Best Companies and 100 Best Green Workplaces awards the past 2 years.



Purpose Driven:
We help build better businesses through the power of technology. We extend our clients digital vision, expertise and capabilities to engineer a better future.
We help you extend your company's digital vision, expertise and capabilities to engineer your full potential and help the SMBs we work with to not just survive, but thrive.
Our Systems
Our systems and services are designed to help our small and midsize clients to digitally transform their businesses with technology.
Almost every Managed Service Provider in our industry uses one of the same two or three software platforms to run their business. These tools all have ticket management, alerting, simple project management and billing. The problem is, these tools are all very similar, and as a result MSP's end up running their business using same service model – meaning you end up with the same return on investment no matter what provider you select.
Our systems are custom designed on the SalesForce platform, and allow us unmatched versatility and flexibility to help you manage your return on investment in technology. We built this because we think all small and midsize businesses need a partner who helps them to be a better business by unlocking the potential of technology.
Small & Midsize businesses should have equivalent technology to Enterprises.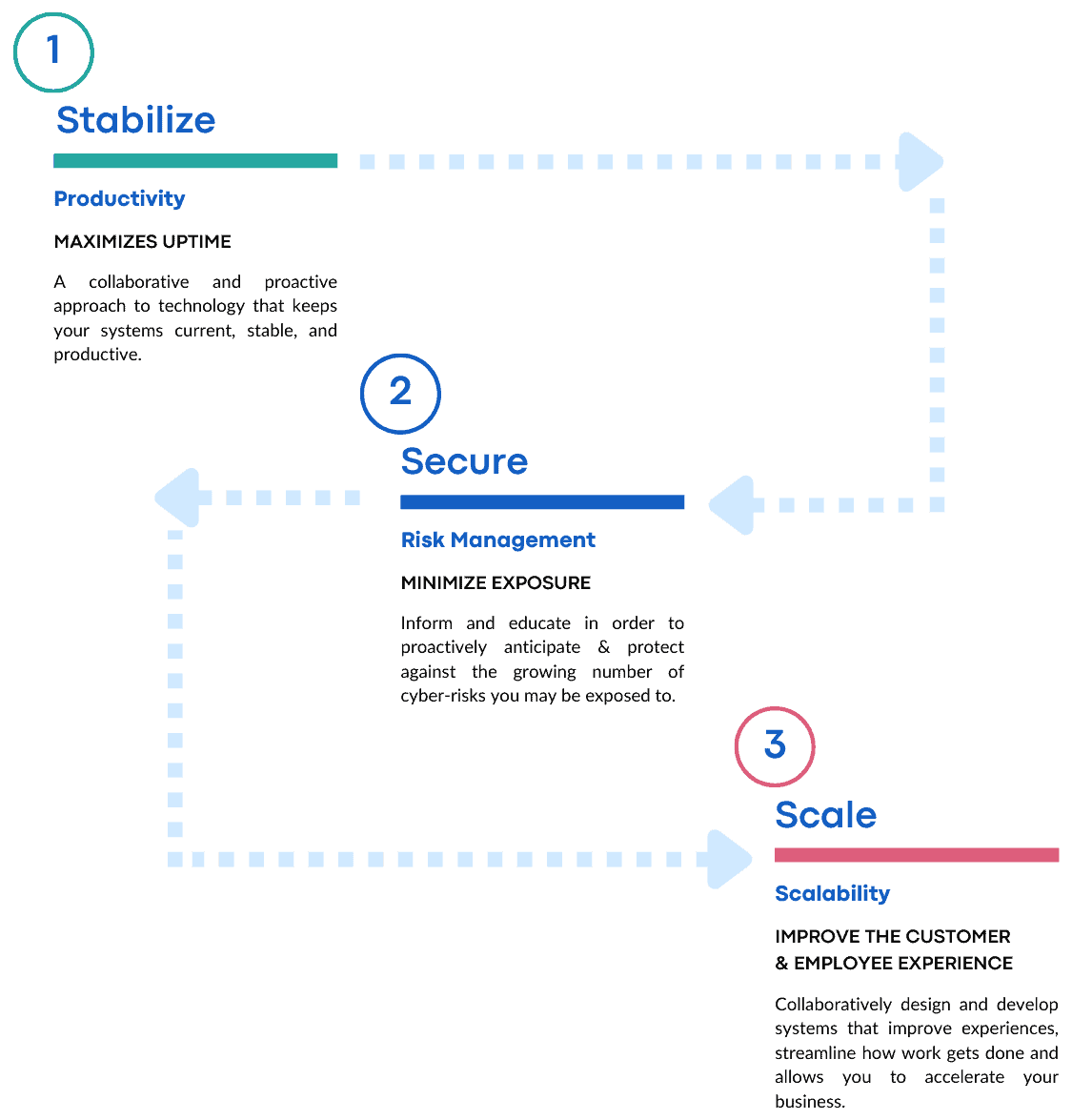 For every client, we follow a proven methodology to help evolve their environment and incrementally improve their return on technology investments.
We help you stabilize your business, secure your business and scale your business.
Think your business is already stable and secure? Let us show you how Microsoft SharePoint, Power BI and Power Automate can accelerate your company to the next level.
Our intertwined team and processes are built to keep your business Stable, Secure and Scaling.
Stability
The environment is stable and functional, enabling employees to do their best work and minimizing disruptions.
Security
Business risk and compliance has been appropriately considered and mitigation efforts are aligned with the risk appetite of the business.
Scalability
Technology is an enabler that helps the business do better work and grow more quickly.
Find time to learn about our unique approach to technology partnerships that will help you get more out of your technology investment.
Mission Driven
Upward has been focused from day-one on our mission: To help build better businesses through the power of technology.
But beyond this, we believe business has a responsibility to our employees, the environment and our local community to make things better. Upward became the first Certified B-Corp in our industry in the Pacific Northwest in 2017 and has been consistently improving our impact with our employees, environment and community ever since.
In 2021 and 2022 we were awarded one of the Best Places to Work in Oregon by Oregon Business magazine, and we have enjoyed amazing employee retention with nearly 95% voluntary team retention in the past 5 years.
Bigger Thinking
SMBs SHOULD ALWAYS FEEL LIKE A BIG (AND GROWING) DEAL:
Ambition for excellence
Creativity as the engine of progress
Improving Fanatically
TECH NEVER RESTS SO WE ALWAYS MOVE AHEAD IN ALL WAYS:
Innovation in culture and product
Exceptional processes and systems
True Engagement
INSIDE/BETWEEN COMPANIES, HUMANS ARE WHAT MAKES TECH GO:
Dedication to customer experience and advocacy
Commitment to teamwork and empathy
Upward Bottom Line
TRULY SUCCESSFUL COMPANIES CAN SET SIGHTS HIGHER THAN PROFIT:
Integrity at the highest standard
Responsibility to help customers and communities