Complex Technology. Simple Solutions.
Upward Technology specializes in turning sophisticated technologies into intuitive, simple-to-use IT services that drive your business's growth. Our customized solutions are designed around your goals and long-term success. Whether you are a 15-person startup pivoting from concept to execution or a 250-person company looking to leverage technology in new ways, we're here to help you maximize your potential.
Tell us where you want to go, and we'll build a technology roadmap to get you there.
Who We Are
Upward Technology is a different kind of IT company. We are a group of innovative problem solvers who love what we do and always put our clients' goals first. Our entire team is devoted to delivering a better customer experience than anywhere else. We're in it for the long run; our primary objective is to help our clients thrive today, tomorrow, and far into the future.
We exist to help our clients build better businesses through the power of technology.
Technology is no longer just another business expense — it's a vehicle for innovation that spawns new business opportunities.
With deep expertise in both Microsoft and Mac platforms, we offer a wide range of sophisticated tools and methodologies specifically designed to meet the needs of small and midsize businesses.
Using your strategy and vision as our guide, we'll create an integrated technology system that's scalable enough to grow with your business.
A Better Return On Your IT Investment Than Anywhere Else
Our processes and systems are uniquely designed to give you deeper insight into your business, more transparency, and better strategic alignment.
What Makes Us Different?
Your long-term success is our primary objective. That's why our entire client experience is centered around building a relationship of trust and transparency. Here's what sets us apart from other IT service providers.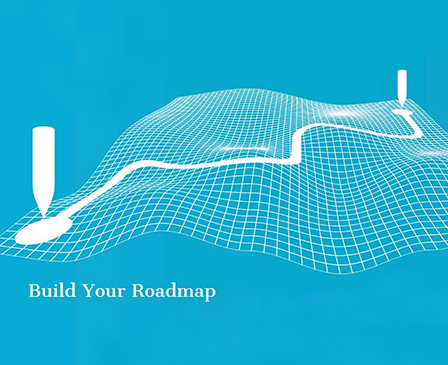 Personalized: We start with your strategic vision for the future. Then we build a customized technology roadmap to take you there.
Humanized: Complex technology becomes simple when it's designed to be flexible, intuitive, and adapted to your team.
Scalable: Growing your business means you'll need to manage, upgrade, and expand your technology as your needs evolve. We'll provide seamless support along the way.
Affordable: Whether you need cybersecurity, managed IT services, or something else, our solutions are appropriate and affordable for small and midsize businesses' budgets.
Ethical: Our business model is grounded in integrity, transparency, and honesty.
We exist to serve all we work with in prospering & unlocking their full potential.
We generously use our resources in the service of improving our company, community and environment.
To sustainably create wealth and prosperity for every stakeholder we work with.
These 6 values guide the decisions we make:
1. The highest standard of integrity
2. Creativity as the engine of progress
3. Exceptional processes and systems
4. Dedication to the customer experience
5. Commitment to teamwork
6. Ambition for excellence
Gas Miles Offset Per Year with Electric Driving
Average Tickets Closed Per Month
Volunteer Hours Donated Per Year
Upward Technology is B Corp Certified
Earning our B Corp certification in 2017 meant a lot to us. It's a constant reminder of our commitment to being a force for good for our clients, employees, community, and environment.
Partnering with Upward Technology connects you with one of the most forward-thinking teams in our industry, with a passion for finding streamlined solutions to complex problems. Here's how we've helped our clients with theirs:
"[We appreciate] your willingness to think out of the box and show us a new solutions that would make our business better and actually fit into our budget."
"I want to let you know that your team did a fabulous job, working in what were very stressful and time sensitive situations, to support our team. We are so very appreciative that you were all there, and interacted with us in such helpful and positive ways. We continue to be impressed by the quick response times and professionalism of your team members."
"Upward supported us through a challenging experience replacing an in-house IT person and charted a path to modernize our environment. They have become a critical partner in our success."
"Working with Upward Technology has been a great experience for us. They quickly learned what our business priorities were and crafted a plan that was executed with expertise and care. We feel that they are an integral part of our business success going forward."